METHODOLOGY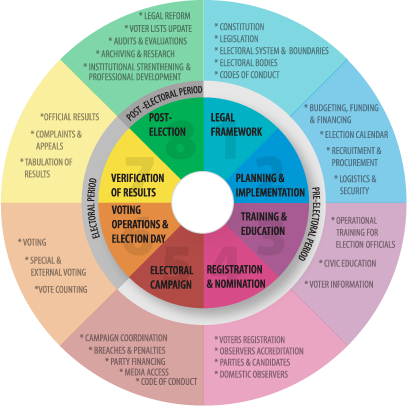 Elections have long been considered a valid alternative to heredity and violence in the process of transferring political power. However, given their intrinsic conflicting nature, elections have often emerged as potential triggers of violence. By exacerbating divisions within societies, elections can be catalysts for social tensions, which in turn could degenerate into what is known as election-related violence.
Inspired by the lessons learnt from years of short-term event-based assistance, the electoral cycle approach (ECA) was invented by practitioners to re-focus electoral support towards more comprehensive and longer-term strategies. The ECA is a visual planning tool that helps assistance providers and national stakeholders alike to account for the fact that elections are continuous processes where multiple actors are involved and are inter-dependent on one another and where the different steps and actions are inter-dependent. The ECA proves a solid ground for developing capacities and researching on elections-related violence (ERV) issues – here defined as "any random or organized act or threat to intimidate, physically harm, blackmail, or abuse a political stakeholder in seeking to determine, delay, or to otherwise influence an electoral process".
The Electoral Cycle Approach was later officially adopted by the EC and UNDP with the EC-UNDP Operational Guidelines for the Implementation of an Electoral Assistance Project, in April 2006. ERV may take place throughout the electoral cycle, but the most intense period are usually the campaigning period, the Election Day itself as well during the aggregation of results and after the announcement of results. Therefore, election-related violence can occur throughout the entire electoral processalthough with different intensity, perpetrators, victims, modalities and slightly dissimilar motives. Moreover, ERV issues are also highly relevant in the earlier pre-and post-electoral periods. Indeed, planning and budgeting processes, training and awareness raising and post-election assessments, dispute resolution mechanisms and legal reform may be crucial to combat violence. For example, if the electoral system is based on a winner-take-all principle, the likelihood of violence may be higher than if electoral representation is based on the principle of proportionality. Likewise, plans – including security and contingency plans – need to take into account likely as well as "unthinkable" scenarios to ensure that capacities are in place to address violence if such arise during the voter registration process, campaigning period, election day and beyond. In a recent article on wars and violence in sub-Sahara Africa, it is argued that, whilst large-scale wars and political violence are declining in frequency and intensity, elections-related violence is persisting.
Centrally located in the middle between local communities and voters on the ground on the one hand and political and electoral institutions and on the other, the civil society can play a crucial role in promoting peaceful electoral processes. The work carried out by CSOs in this field can take several forms. Through voter information and civic education, CSOs raise awareness about electoral processes and wider democratic and human development issues at the grass root level. Such campaigns increases the people's understanding of the processes and by doing so may alleviate frustration on part of party and candidate supporters that believe they have been treated unfairly. Domestic observation is another avenue for creating conditions for peaceful elections as it contributes to overall transparency and enhances public trust in institutions. CSOs may also track, document and analyse ERV incidences during the electoral process. Such analysis can feed into legal reform processes in the post-election period, but more instantly they can also be useful for police and security forces who are provided with a clear picture of what is happening where and may increase their presence in areas where ERV seems to be most profound. CSOs may also play a crucial role in promoting inter-party dialogue and contribute to the development of codes whereby parties agree on some basic rules and principles of acceptable behaviour, often especially related to the campaigning and election day periods. Based on their experience from working in the crossroads between electoral processes and violence/conflict, they may provide expertise and training to security forces. To summarise, there is a number of fields where CSO activities may promote peaceful elections.